We make it all ourselves, but we've got to draw the line somewhere. We don't grow cotton or raise cows or cast bronze in our little workshop…yet.
But until that day comes, we know some people who do! Here's a rundown of where we source the materials that we transform into bags, wallets, and more.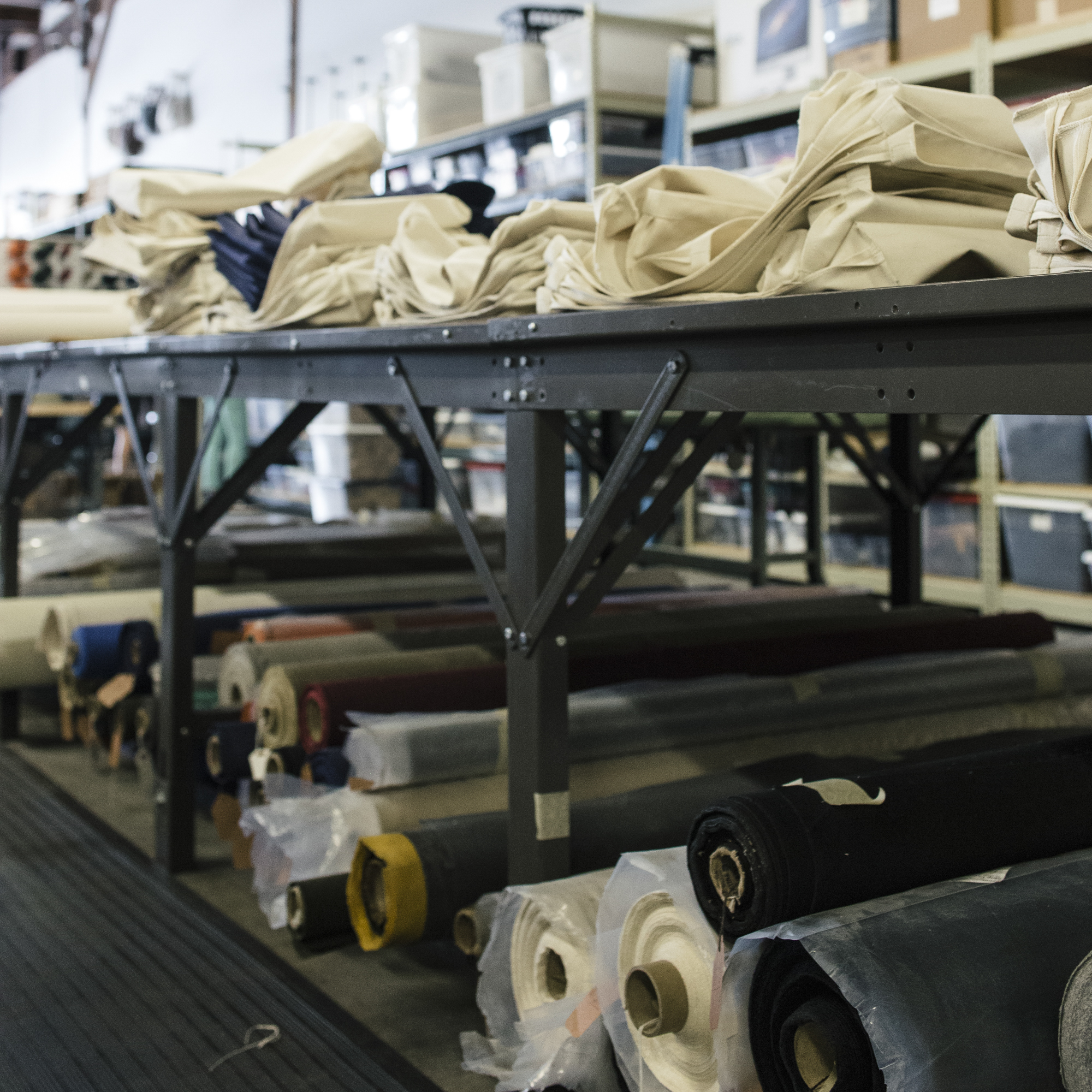 Almost everything we make is made out of a heavyweight 22oz. waxed cotton canvas. And most all of that comes from Carr Textile.
Carr is based in Fenton, Missouri where they operate a 420,000 square foot manufacturing and distribution facility that makes poplins, oxfords, poly blends, serges—pretty much any kind of fabric you can think of. We mostly buy their Texwax #10 duck canvas, which starts off at 14oz. but beefs up to a heavier 22oz. after the waxing process.
We've used other mills in the past but none have had the same quality and consistency as we've experienced with Carr.
Different tanneries produce different leathers, and we've got two to suit our needs.
The first is Horween, a family owned tannery in Chicago that produces most of our finished and dyed leathers. Winter Session started in Chicago, and Tanya and I used to visit the fourth-generation Horween, Nick for samples when we were just getting started. A decade later, and they're still our go to source for our wallets and other small leather goods.
The second is Chahin, and they produce the skirting leather we use for handles and straps. Skirting leather is a type of vegetable tanned leather, meaning it has no oils infused into it, so it starts off pale and stiff and darkens and softens as you use it. Chahin is based in Veracruz, Mexico and has been in business for over 80 years. We've found their skirting leather to be really consistent with minimal blemishes on the hide, which means less waste when we're cutting it up.
We use exclusively nylon thread from a company in Germany called Amann.
Nylon because it's the most durable, and Amann because it's the highest quality nylon we could find. Nylon is the least biodegradable fiber for stitching, cotton is weaker and polyester is susceptible to UV damage. You can find Amann thread in all of our seams and a thicker waxed version in our wallets.
All of our brass hardware comes from Buckle Guy, which is another family-owned business that makes our snaps, clips, rivets, and, you guessed it, buckles. Buckle Guy is Massachusetts based, but all of their cast brass items come from their factory in China. We've even had the pleasure of meeting the owner, Hugh, who used to live here in Denver.
Zippers are a name you might recognize, YKK. They're a Japanese company that's been around since practically the beginning of zippers and they make all of the metal-teeth zippers we use at a factory in Georgia.
And last but not least, all of the boxes and bags we use to ship to you come from Packaging Suppliers of America. They're local, right here in Denver, and their range can box up anything you can imagine.
---
And that's all of it! If you have any other questions about where our materials come from, just email us at info@winter-session.com and we're happy to share.